---
POLITICAL CORRECTNESS AND CORRUPT LAWYERS V1.t
FACTS ON THE PC LAWYERS
The lawyers want more asylum seekers here as they are a big meal ticket for them with the legal aid they can claim.
FACTS ON THE P.C LAWYERS
21 Law firms will become "asylum millionaires" this year at the Tax payers expense. These companies will receive over a million pounds in Legal Aid fees. A lot of immigrants are now acting as consultants for the next wave. Leading immigration lawyer Nicola Rodgers claimed Britain would have to leave the E.U if it pulled out of the European convention on human rights. If this is true why can France ignore Article 3 of the human rights act?
BENEFIT FRAUD COSTS £6,000 A MINUTE
BENEFIT FRAUD COSTS TAXPAYERS £6,000 A MINUTE.
Benefit fraud and over-payments cost nearly £6,000 a minute, an official report revealed in December 2003. A total of £3 billion was lost last year as a result of bogus claims and blunders, Whitehall's spending watchdog said.
For every £10 paid out in Jobseeker's allowance, £1 is lost as a result of fraud or mistakes. Labour have had very little success in reducing the amount lost.
£2 billion was lost in fraud last year (2002) and another £1 billion in errors. This equates to £120 a year for each household in Britain. The National Audit Office revealed a total of £860 million was lost in Income support , £510 million due to fraud and the rest errors. Jobseeker's Allowance lost £290 million. Housing Benefit figures show that £750 million was lost through bogus claims or mistakes. Year after year we are faced with this disgraceful situation.
JAIL OVER ID SCAM
JAIL OVER ID SCAM.
A Finish teacher caught with £500,000 of fake passports and ID cards for an illegal immigration scam was jailed for just five years on the 29th January 2004. Custom officers nabbed Paavo Kuosmannen as he got of the Euro-star train from Brussels. He was a courier for a people smuggling gang in Thailand who wanted to bring in loads of bogus asylum seekers into Britain.
£1 BILLION POUND ASYLUM INDUSTRY
A investigation can today reveal the shocking scale of the £1billion industry that sucks taxpayers' cash out of Britain's asylum chaos. Foreign companies, private health care providers, property businesses, even a luxury travel agent, are being paid hundreds of millions a year in a bid to contain thousands of illegal migrants. They are all cashing in on decisions made by the UK, which was last week described as "unfit or purpose". Three French companies earned £106million between them last year. Last night, Tory MP Philip Davies said: "The taxpayer is being screwed and it's time the Government got a grip." An analysis of the agency's payments to suppliers over the past 12 months shows almost 500 were each paid more than £25,000, totalling £941million. The biggest beneficiary was G4S, formerly known as Group 4, which received £96.9million for running detention centres and providing other security services. Its competitor, Serco, which runs the colossal Yarl's Wood immigration "removal centre" near Heathrow, was paid £44.3million. While these two are well known, the Sunday Express has discovered that £44.7million was paid to VF Worldwide Holdings Ltd, a Mauritius company that processes applications for visas. It won a five-year contract in countries such as South Korea, China and Bangladesh in 2007.
Some £67.7million was paid to the French multinational Sodexo, which profits from providing controversial childcare vouchers to thousands of asylum seekers. Another France-based company, Carlson Wagonlit, a travel agent, was paid £28.7million to book flights home for deported asylum seekers. The company won a contract last year after it emerged civil servants were even hiring private jets for deportations. The agency also paid £18.7million to the International Organisation for Migration, a body that gives cash to asylum seekers as an "incentive" to go home. Another £9.3million was transferred to French-owned Atos Origin, a medical and IT specialist.
FAKE ASYLUM SEEKER JAILED FOR FRAUD
FAKE ASYLUM SEEKER JAILED FOR HUGE FRAUD.
A Dutch national posing as an asylum seeker launched a "wholesale attack" on the benefit system by fraudulently claiming more than £31,000. Mohomed Cali was jailed for 30 months at Northampton Crown Court in December 2003. The 24-year old former Somalian was granted Dutch Nationality in 1989 but when he arrived in the UK, he claimed to be an asylum seeker. He told immigration officials that he had children in his care and was granted child benefit and income support and housing benefit. But while he was claiming these under a fake name, Cali was signing on under his real name receiving more benefits while also working at the same time. Cali was receiving benefits for two people and housing support for two homes.
FAILED ASYLUM SEEKERS TRYING TO GET BACK INTO THE UK
FAILED ASYLUM SEEKERS TRYING TO GET BACK IN TO UK.
Failed asylum seekers were in April 2005 amongst hundreds of refugees in Calais trying to sneak into Britain. Among them were an Iranian who already owns a pizza restaurant in north London and a group of extremist Islamic Algerians ( A former French colony).
Hossani left Iran in 2001 and was refused asylum in France. He worked illegally in London and saved enough money to open a pizza restaurant in Wood Green. He was kicked out of the UK. He says when he gets back he is not going to tell anyone he is in the UK.
PAYING FOR YOBS TO BE PUT UP IN HOTELS
TAXPAYERS PAYING FOR YOBS TO BE PUT UP IN HOTELS.
A teenage gang leader jailed for terrorizing his community is being put up in a hotel at taxpayers' expense, it was revealed on the 17th October 2003. Donavan Osborne 18 , moved into the £44.95 a night room two weeks ago after being released from custody. Osborne served only half his 12-month sentence and is staying at the Travelodge in Rugely, Staffordshire. His room has en suite facilities and satellite TV. The teenager is officially classed as homeless because magistrates have banned him from Chadsmoor, where he and his gang terrorized the locals. He could have stayed with his parents in Longford, another suburb of Cannock.
COCKLE WARS
"COCKLE wars" have broken out in Morecambe as foreign gangs plunder £30,000-worth of shellfish EACH DAY. They have been working their way around the bay for six months working cockle beds for the lucrative European market. They previously worked Deeside but were banned there because of fears they would remove all stocks. The teams are made up of Chinese and Eastern Europeans often hired by ruthless racketeers. The cockles are taken to the Continent by road or a mother ship anchored off Morecambe. Coastguards have warned of tidal dangers in the area and locals have complained about the mess gangs leave behind.
ASYLUM IS SIX TIMES WORSE THAN FEARED
ASYLUM IS SIX TIMES WORSE THAN FEARED.
Britain's immigration crisis is six times worse than official figures suggest, a Home Office expert claimed yesterday. Robert Owen revealed that over 1,000 people a day were arriving at Heathrow's Terminal 3 to claim asylum. He said his information is highly classified and was speaking as a witness at a trial of Chinese nationals involved in people trafficking. Home Office census says only 8,000 Chinese are living in Manchester but the true number is over 40,000.
BOY DENIED NURSERY PLACE BECAUSE HE SPEAKS ENGLISH
BOY DENIED NURSERY PLACE BECAUSE HE SPEAKS ENGLISH.
If he was a child of a single mother or an asylum seeker or living in a tower block, his full-time place at the local nursery would have been a formality. But this child happens to have an English speaking mother and father and lives in a nice home with a garden. According to the nursery's admissions criteria, means he is last in line for a place. His mother Mrs Townsend has been told her son can only attend on a part time basis.St Werburgh's Park Nursery School in Bristol says it is pre-empting a council-wide policy which will come in force in September 2005.Bristol City Council says preference must be given to children who are poor , poorly housed, Children of asylum seekers or traveler's and those who English is a second language.
GADAFFI SPILLS THE BEANS
Libyan leader Moammar Gaddafi has admitted in public that the "political asylum" ruse used by Third World invaders to enter Europe is a "hilarious trick and lie" and that there is no justification for it. Mr Gadaffi's comments were made during a press conference with Italian Prime Minister Silvio Berlusconi in June this year during a formal visit to Rome. Although captured on film, the Libyan leader's comments were deliberately cut out of British TV broadcasts of the conference. The censored comments have now finally appeared on YouTube. In the censored clip, Mr Gaddaffi says: "As for political asylum, Africans have no problem with politics. That is one of the tricks and lies you hear. "They say 'We're here for political asylum.' Africans don't have this problem. "These are people who live in the jungle, in the desert. They know nothing about parties, elections or opposition.
"Political asylum? How many have political asylum? Millions? "Millions pour into Europe. Do they all want political asylum? It's hilarious."
SLOVAK GYPSIES HEAD FOR THE UK
THOUSANDS OF SLOVAK GIPSIES CAN COME HERE .
Thousands of impoverished Roma Gipsies from Slovakia will be able to enter the UK without visas from 12th December 2003. Britain imposed a strict visa regime five years ago in an effort to curb the rising numbers of Slovak Gipsies seeking asylum in the UK. News that Slovaks will no longer need visas to enter Britain from 12th December 2003 has prompted fears of a repeat of the asylum problems seen in 1998. Roma leaders from Slovenia have predicted a mass exodus to Britain when it joins the EU next May. We will also see large amounts of Polish and Portuguese arriving because their countries have no welfare systems. Estimated 750,000 Slovak Gypsies will come to the UK.
25,000 HOMES KEPT EMPTY FOR ASYLUM SEEKERS
25,000 HOMES KEPT EMPTY FOR ASYLUM SEEKERS.
Around 25,000 homes earmarked for asylum seekers are being kept empty at taxpayers expense, a leaked Downing Street memo revealed on the 27th June 2004. The properties will remain vacant until next summer while the Government pays £100 million to rent them. The empty asylum homes add to the 700,000 unoccupied homes in England. 115,000 of them are publicly owned properties managed by councils or housing associations.
Details of the scandal emerged in leaked minutes from a meeting between Blair, Blunkett and Lord Falconer. Mr Blair complained about the way the Home Office's National Asylum Support Service (NASS) was spending the money.
ASYLUM MERRY GO ROUND
ASYLUM MERRY-GO-ROUND WITH 500 RIDERS.
More than 500 failed asylum seekers are being allowed to remain in the UK on state handouts while their claims are considered a second time. The bogus claimants should have been deported several years ago, but officials failed to expel them as they struggled with a backlog of 400,000 cases. As a result of staying so long, the asylum seekers can claim their circumstances have changed since being rejected - and make a new claim. They can then return to a life of legal aid, free housing and £40 a week in benefits while the claim is reconsidered.
FRANCE GETS TOUGH
FRANCE GETS TOUGH.
Tough new asylum laws in France could trigger a new wave of refugees across the channel. The UK will seem even more of a soft touch. The new French system will process asylum claims within two months and provide a new category of subsidy protection. This will give lesser rights than full asylum and refugees will have to renew their resident permits every year. Other refugees will be returned home. In Britain bogus asylum cheats can count on receiving at least two years of benefits before their claim is processed.
ASYLUM CASES CLOGGING UP THE COURTS
HOW ASYLUM CHALLENGES ARE CLOGGING UP THE COURTS
Legal challenges by hundreds of asylum seekers are clogging up the High Court and costing taxpayers vast amounts of money, a senior judge revealed on the 15th October 2003. Mr Justice Maurice Kay said 800 judicial reviews had been lodged this year alone by refugees - a quarter of all such cases - and warned of the significant impact on the courts work. A vast amount of money is being expended on litigation, much of which ought to be avoidable and which is clogging up the processes of the Administrative Court. The legal row centres on how destitute an asylum seeker needs to be before their legal rights are breached.
LOTTERY MONEY STOPPING TERRORISTS BEING DEPORTED
LOTTERY MONEY HELPING TERRORISTS.
Controversial asylum campaigners are still flouting the lottery rules by using a £340,000 grant to launch attacks on the Government. The National Coalition of Anti-Deportation Campaigns caused a storm last year after being awarded lottery cash but using the funds to stop terrorists being deported. MP's are demanding to know why political statements are still being posted on the NCADC website.
EX RACE EQUALITY LEADER AND JP JAILED FOR ASYLUM CON
Ex-race equality leader and JP is jailed for asylum con
FORMER magistrate Alf Webley was jailed for two years yesterday after being found guilty of conspiracy to defraud the Home Office by gaining illegal permits for asylum seekers.
Webley lied to officials using a friend's address as a college in order to claim that nine illegal immigrants, one of whom he was living with, were students, a court heard.
Divorced Webley, 56, a director of Wycombe Race Equality Council from November 1973 and a magistrate on the bench at High Wycombe, had pleaded not guilty. But a jury at Oxford Crown Court took just two hours to convict him after a two-week trial.
The con was uncovered when the Home Office became suspicious of the college they had never seen any advertisements for.
Wye Valley Institute, the fictitious college, was in fact the home of accomplice Isa Ibrahim in Cater Road, Lane End. Ibrahim, who admitted conspiracy to defraud the Home Office at an earlier hearing and will be sentenced today, told detectives Webley was behind the ruse, passing him false applications which he forwarded to the authorities on elaborate college letter-headed paper.
BRITISH WOMEN INVOLVED IN BOGUS MARRAIGE SCAM
A BRITISH woman who recruited young British Asian women in shopping centres for bogus marriages with Indian men that helped the latter to skip immigration procedures has been found guilty at Isleworth Crown Court.
Jaswinder Gill, 41, arranged marriages, which took place in Britain and India, for Indian men wishing to enter or remain in the UK. She recruited young women to take part in the scam, and was paid over £10,000 a time. Working with her husband Dharshan Gill, 40, Jaswinder procured young British brides by promising them temporary work as models in India.
They were both arrested in 2004, after the Met`s Operation Maxim uncovered the fraud.
Detective Sergeant Gerri Mannion, who led the investigation to arrest Gill, said: 'These marriages were a charade - arranged between perfect strangers who were coached by Gill to convince registrars of their intentions to live as man and wife in the UK.'
MILKING LEGAL AID
100 law firms milking legal aid in asylum cases.
A hundred law firms of Londinistan are milking the legal aid system on behalf of asylum seekers, ministers admitted last night. One hundred out of 372 companies in Londinistan who specialise in making money from asylum applications are classed by the Legal Service Commission as 'poor quality' and risk having their legal aid contracts rescinded due to wasting taxpayers money on hopeless cases. The legal aid bill for asylum cases has shot up from £74 million to £181 million. Each initial asylum application costs the taxpayer £900 in legal aid bills.
£16.000 A YEAR IS WHAT AVERAGE ASYLUM FAMILY GETS TAX FREE
£16,000 IS THE AMOUNT THE AVERAGE ASYLUM FAMILY GETS EACH YEAR - TAX FREE.
Families of asylum seekers many just economic migrants are getting more than £16,000 in tax-free handouts each year it was revealed on the 15th December 2003. Immigrants are better of than newly-qualified teachers. An average asylum family gets £1,340 a week - the after tax equivalent to a salary of £20,500.
The figure includes cash benefits and housing given to an average couple with 2.13 children - but the burden to the NHS, schools or the costs to the Home Office and Courts processing the asylum claims is NOT included.
The cost to the taxpayers is over £5 million each day!
UK TAKES 1 IN 5 OF WESTERN WORLD'S ASYLUM SEEKERS
OFFICIAL OECD REPORT:- BRITAIN TAKES 1 IN 5 OF THE WESTERN WORLD'S ASYLUM SEEKERS MORE THAN ANY OTHER COUNTRY.
Britain took almost one in five of the Western World's asylum scum in 2002, it was revealed yesterday. We top the league table with 110,700 asylum scum accepted last year. This was 1 in 3 of those coming to Europe and almost as many as Germany plus France put together.
ASYLUM LEAGUE GUESS WHO IS TOP?
| | | | |
| --- | --- | --- | --- |
| COUNTRY | 2002 NO OF ASYLUM SCUM | RISE % ON 2001 | 1990-2001 YEARLY AVERAGE |
| UNITED KINGDOM | 110,700 | +20.3 | 57,300 |
| USA | 81,100 | +28.3 | 91,700 |
| GERMANY | 71,100 | -19.5 | 170,500 |
| FRANCE | 51,100 | +8 | 31,900 |
| AUSTRIA | 37,100 | +23 | 14,800 |
| CANADA | 33,400 | -19.6 | 29,600 |
| SWEDEN | 33,000 | +40.4 | 23,800 |
| SWITZERLAND | 26,200 | +27.1 | 26,700 |
| NETHERLANDS | 18,700 | -42.7 | 33,500 |
| ITALY | 7,300 | -45.7 | 10,700 |
| DENMARK | 6,700 | -35.5 | 10,600 |
| HUNGARY | 6,400 | -32.9 | 4,100 |
| SPAIN | 6,200 | -34.9 | 8,400 |
| AUSTRALIA | 6,000 | -54.2 | 9,600 |
Calmly, with compelling detail the OECD exposes the utter failure of the asylum policy in a nation with no control over its borders. Britain is numero uno destination for asylum seekers with the number of refugee coming here greater than a large country like the USA receives. We take a third of Europe's asylum scum and a fifth of the developed worlds. These figures exclude the number of illegal immigrants that have been smuggled in. It is estimated that 1 in 20 people in the UK can be classed as a foreigner. We have been thwarted by our judges interpretation of the Human Rights Act their lust for money and lack of patriotism all being factors. The courts are likely to throw any legislation out that will cut the number of illegal immigrants living here. We will always be top of the charts in future OECD reports.
ILLEGAL IMIGRANTS JAILED FOR TRYING TO LEAVE UK
GOVERNMENT SPENDS £1.7 MILLION JAILING ILLEGAL IMMIGRANTS TRYING TO LEAVE UK.
Seventy-five asylum seekers have been thrown in jail ... for trying to get out of Britain. Taxpayers once again have to foot the multi-million pound bill. This year 49 have been arrested and a lot more are expected soon as border checks are stepped up. Authorities insist on taking asylum seekers to court rather than deporting them immediately. Only when they have served a six-month prison sentence costing the taxpayer £14,000 are the illegal migrants kicked out of Britain.
Many of those arrested have had their asylum claims rejected and want to try their luck in another country. Others are failed applicants who will try to smuggle themselves in with a new identity. In addition to the jail costs, the process incurs massive legal aid bills for court appearances. The 75 cases in 2003 cost the taxpayer over £1 million pounds. We have had 49 cases this year so far.
£6.5 MILLION AYSLUM TRIAL
£6.5 million Asylum trial farce.
A trial of snake gang people smugglers which exposed the shambles of our asylum system has collapsed costing the taxpayer's 6.5 million pounds.
Three key witnesses, all illegal immigrants, have disappeared without trace. One of the three men standing trial accused of links to snakehead gangs, was granted permission to stay in the UK while he was actually still in the dock.
Restaurant owner Guo Chen openly admitted he arrived in the UK illegally with the help from gangsters. His restaurant employed at least four illegal immigrants. Yet while he and his nephew were accused of laundering 5.2 million pounds for Snakeheads and assisting illegal immigration into the country, Chen was given leave to stay in the UK permanently.
In effect one part of the Home Office was prosecuting him and another section allowing him to stay.
LABOUR WELCOME ANOTHER 10,000 FROM BANGLADESH
LABOUR WELCOME ANOTHER 10,000 FROM BANGLADESH - EVEN THOUGH WE HAVE THE SAME NUMBER CLAIMING DOLE.
Ten thousand Bangladeshis are being allowed to come to this country despite the fact that we have the same number of their countrymen claiming dole in this country. The influx is down to a permit system which is supposed only to admit temporary staff to fill vacancies which can't me met by resident workers. Demand for permits in Bangladesh have been so great that disturbances broke out. The official figures show that there are already 10,000 jobless Bangladeshis in Britain. According to the 2001 census, of some 25,000 Bangladeshi men aged between 16 and 24 , 40 percent were unemployed - a total of 10,000.
ASYLUM CHILDREN
ASYLUM CHILDREN REACH BRITAIN IN THEIR THOUSANDS.
Thousands of unaccompanied children seeking asylum are arriving in Britain, placing strain on schools, hospitals and social services. A record 6,200 reached our shores last year, six times more than when Labour came to power in 1977. The bill for the taxpayer caring for the youngsters, each of whom earns trafficking gangs around £10,000 is estimated at £150 million a year, with the burden falling hardest on the channel ports. In Kent which receives the most under 18's the cost of asylum support has soared from £250,000 six years ago to £56.4 million last year. That included a £30 million bill for unaccompanied children.
AFGHAN FOILED 16 TIMES
AFGHAN FOILED 16 TIMES BUT WON'T GIVE UP.
An Afghan who has been caught 16 times trying to smuggle himself into Britain aboard a boat from Belgium vowed last night: ' I'll be back'. Haroon said he will reach the promised land and is speaking for another 50 Afghans whom he is squatting with in Zeebrugge. If we reach Londinistan then our troubles will be over he says. We expect a good life there , a free house and free food. No identification papers or documents to worry about. It's always been like that - everybody knows it. He admitted his reason for leaving Afghanistan was not persecution and admitted he was an illegal immigrant. He said ' haven't we got the right to be happy' . My parents hope to come and live with me later on when I get a house in Londinistan. Hartoon says he will keep on trying to get to Britain until he is dead.
GANG MADE £50 MILLION
GANG MADE £50 MILLION SMUGGLING 6,000 IMMIGRANTS INTO BRITAIN.
A five-strong gang who smuggled 6,000 illegal immigrants into the UK were jailed for a total of 23 years yesterday. Judge Dawn Freedman said their human trafficking which earned over £50 million , posed serious risks to national security. A Sikh extremist terrorist was one of the people smuggled in. Harrow Crown Court had been told that the racket appeared to centre on the Indian Consulate General in Birmingham. One official there was paid to process bogus documents and steal genuine ones.
BRITAIN'S LOST BILLIONS
BRITAIN'S LOST BILLIONS.
The British economy is losing more than £3.5 billion a year as migrant workers send money home to their families, MPs have been told. The figure is bound to raise fresh doubts about controversial Government plans to encourage more foreign workers to come here. Ministers believe Britain can help tackle Third World poverty by allowing thousands more low-skilled migrant workers into the country so they can send money back home as well. The scheme would involve giving temporary work permits to people from the poorest countries in the world. The number of fruit pickers and seasonal farm workers has expanded from 10,000 five years ago to 25,000.
The startling £3.5 billion figure was revealed as two senior civil servants gave evidence of the idea to the Commons international development select committee.
TOUGH ON CRIME?
This is what New Labour means when its says tough on crime, tough on the causes of crime, and taking a strong stand on immigration. This ethnic sexually attacked three people, gets locked up, then freed to attack another kiddy, no life sentence, no deportation. Asylum seeker attacked young girl An asylum seeker who was jailed for several sex attacks but was allowed to stay in Britain has been found guilty of further assaults on a young girl. Sadiq Mohammed, 32, was found guilty of abducting and sexually assaulting a girl of seven in Bristol in May 2006. Mohammed, of Barton Hill, was jailed for four years in 2000 for indecently assaulting a 55-year-old woman and trying to attack two others. Mohammed, from Somalia, will be sentenced later at Bristol Crown Court. 'Public protection' :- Four years after being released from jail, Mohammed took the seven-year-old girl from outside a corner shop and sexually assaulted her in his flat. He denied one charge of child abduction and assault, but the jury at Bristol Crown Court took just under one hour on Tuesday to find him guilty on both counts. Speaking after the hearing the victim's father, who cannot be named for legal reasons, said he was relieved. He said: "Justice has been served today. We are very glad about the verdict." Commenting on why Mohammed had not been deported, a Home Office spokesman said: "The government has made clear that public protection is the overarching priority of the Home Office. "As part of this we have made clear that we will seek to deport foreign national prisoners who have committed a serious crime as early as possible in their sentence."
513,000 MIGRANTS IN JUST ONE YEAR
BRITAIN HAD 513,000 MIGRANTS LAST YEAR ( LEGAL ONES).
According to the new count, 513,000 economic migrants arrived last year. In 2001 this was only 480,000. 95,000 of these were expatriates returning home. 31 percent of arrivals came from the Commonwealth , 12 percent from the E.U and 38 percent from other countries. Around 174,000 foreigners left the country - which means we have an extra 244,500 living here. 186,000 Britons left the country. The figures show the influx has quadrupled since 1993. The Governments Actuary's department said 130,000 people per year will arrive. Since 1998 - 1,034,000 non-British immigrants have arrived while 246,000 British have left the country. The figures are the highest ever recorded in our history and the trend is still sharply upwards. The genuine level is likely to be much higher because the Government's figures includes neither illegal immigrants nor visa overstayers.
A STING BY A SUN NEWSPAPER UNDERCOVER REPORTER
AN OFFICIAL who helps give council homes to asylum seekers is secretly offering to rent flats to illegal immigrants for cash. Crooked Aggie De'Souza, 65, drew up a tenancy agreement using a bogus name for the undercover reporter. He then offered advice on how to dodge immigration officials. Portuguese-born De'Souza, who earns around £20,000 a year, runs his scam from council offices in Sutton, Surrey. Last week he offered a flat to the Sun investigator — who posed as a Bulgarian illegal immigrant looking for accommodation. Our man, who jumped a queue of locals with housing problems, was handed a dingy one-bed flat for an up-front cash payment of £1,390. He was told the rent would be £695 a month. All bills would be paid by De'Souza. The official said: "I'll pay the council tax. Any bills you bring to me in my office." De'Souza, who works as an assessment officer for Sutton Council's asylum seeker support service, warned that Home Office officials frequently checked for illegals in the town. He added: "They're very hot in Sutton. No flat is safe but nobody will kick you out. "They always come at nine at night or in the early morning. I can come quickly and get you out." He then gave our reporter a tour of the flat in a quiet street minutes from the town centre. He was told: "For the time being we only take cash. I can't give you a contract because I work for the Home Office and you're illegal here." De'Souza told our man to sign an asylum seeker's tenancy agreement using the false name of Bledar Gashi. He then handed over the keys. Our dossier of evidence will be offered to Lib Dem-run Sutton Council. A spokesman said: "The member of staff in question has been suspended and we have started a full investigation."
THE SPEEDBOAT GANG
THE SPEEDBOAT GANG.
Maidstone Crown Court heard how Moldovan Anatolie Melnicov masterminded an operation using two sailboats and a speedboat to bring illegal migrants from Eastern Europe across the channel to small unpatrolled ports under the cover of darkness. The court was told how forged documents, such as passports and driving licences and foreign I.D cards would be used to apply for a temporay tax card - which provides proof of residence in Britain. Melicov's gang, including at least another three from former Soviet Bloc countries made 11 trips to France bringing back five or six people each time. The human cargo paid £1,650 each netting the gang £100,000 during the ten months from August 2005 to June 2006. Melnicov was convicted of rape in Moldova in 1982. He has been sentenced for eight years.
INTO UK VIA MATERNITY WARD
INTO THE UK VIA THE MATERNITY WARD.
A Wealthy businesswomen flew from her native China to have her baby in Belfast in a bid to secure British residency. Man Levette Chen is hoping to exploit a loophole that says anyone born on the island of Ireland is an Irish and therefore a European Union citizen. Her daughter now aged three would thus secure the family the right to stay in Britain. Mrs Chen acknowledges the reason for her journey to Ireland. ' Catherine was born in Belfast because we were advised that this was the best way to get residence rights in Britain' she said. The European Courts of Justice will deliver a verdict next year. David Blunkett last night said we need more migrants and said dealing with immigration was one of the key challenges of our time. He warned that immigrants can easy get in via back doors like applying for college but not taking their places.
POLICE AND IMMIGRATION CAN'T COPE
POLICE AND IMMIGRATION SERVICE CAN'T COPE.
After a week huddled in a back of a lorry, 12 economic migrants all males were relieved to reach Britain. Police had no idea what to do with them so told them to catch a train to Croydon to register with the Immigration Service HQ. Official could not confirm if the ten Iranians and two Iraqi's arrived and admitted such event happen all the time. The immigration service admitted it can't cope with the number of migrants arriving by lorry and is allowing many to roam free. Lack of resources means it is impossible to attend all call-outs.
JUDGE CHALLENGES ASYLUM CASH CURB
Judge challenges asylum cash curb
A High Court Judge gave a clear hint that he is preparing to outlaw new rules scrapping thousands of benefits for asylum seekers. The Home Secretary David Blunkett has ordered that anyone who fails to claim refugee status as soon as they arrive in Britain will not be entitled to cash or housing.But refugee groups say the move has left thousands of refugees staving and homeless. Yesterday they launched a High Court challenge to the new law, a received a big boost from Mr. justice Collins.Mr. Collins said " what lies behind this is the hope that asylum seekers will go away". "If we starve them then they will go home, which in itself is a breach of Article 3 (of the European Convention of Human Rights)".
WHY DO PEOPLE COME TO THE UK?
Why do people come?

The motivations of many are perfectly laudable: they are looking for a better life and have risked much to achieve it. These are instincts that have inspired migration across the centuries. It is not the fault of the Romanian gipsy that Britain offers food and shelter and a decent health service to those desperate to escape the privations of their homeland. But this does not make them political refugees. Rather, they are looking for work and money to send home. They come to Britain because there are established communities from the countries that provide most asylum seekers and Rinnan will have a knowledge of English. It is also known that while it may be hard to get into Britain, it is east to stay. Two events in recent history has also encouraged this movement. The fall of the Berlin Wall made travel through Russia and eastern Europe possible once more: and the Schengen agreement among 12 E.U nations removed the borders in western continental Europe.

What has been done?
Since asylum numbers began to rise rapidly in the early 1990s there have been three major pieces of legislation.
[] The Asylum and Immigration Act 1996. This had three main objectives: to change asylum procedures so as to deal more quickly with allegedly bogus claims; to combat immigration racketeering, in part through new offences; and, to restrict the social security and other economic rights previously available. Those who did not apply at port of entry were denied benefits. However, the courts undermined this by insisting that other laws meant no one should be left destitute and it was left to local authorities to pick up the bill for looking after asylum seekers, The Act also established a white list of safe countries designated by the Home Secretary as ones in which there is, in general, no serious risk of persecution.

[] The Immigration and Asylum Act 1999. This Act introducing a one-stop appeal system requiring an adjudicator considering an asylum appeal also to deal with any other appeal able matters raised by the applicant, such as human rights appeals. Under the slogan "firmer, faster, fairer", it aimed to stop the flow of applicants, ease councils of the financial burden imposed as a result of the previous Act and relieve the housing and social pressures in London and south-east England by dispersing asylum seekers around the country. The Act abolished the "white list" but set up a reception centre at Oakington, to "fast-track" asylum seekers from countries such as the Czech Republic and Romania which are not judged repressive. The Act also replace benefits with vouchers.

[] Nationality, Immigration and Asylum Bill 2002. This scrapped the vouchers introduced in 1999 but which had caused anger among Labour activists, especially the trade unions, It also repealed the provisions giving asylum seekers the automatic right to a bail hearing conferred in the 1999 Act It also effectively reinstated the "white list" scrapped in 1999 to allow "clearly unfounded" asylum claims to be dealt more swiftly. It is also in the process of setting up accommodation centres.

What next?
The European Union is trying to draw up a common asylum and immigration policy, though it has so far taken three years without any final decisions being taken. Officials are working on a directive that will make it easier to send asylum seekers home - including to countries considered "unsafe" if part of the country is secure. Refugees would be given temporary protection and be excluded from asylum it they had committed crimes with an allegedly political objective. Other elements of the plan include tighter controls of the E.U border.
HEALTH TOURISTS DESTROYING THE NHS
HEALTH TOURISTS KILLING OUR NHS.
Health tourists who travel to Britain for treatment are costing the NHS at least £400 million per year. A study by a Londinistan Hospital trust claims foreigners who have no right to free care find it easy to exploit lax procedures and ignorance of the rules amongst staff.
They use a range of tricks to sidestep the rules including ranting and raving at staff if caught. The trust which has not been named, estimates that it spent over £220,000 treating 72 foreign students over 3 months last year. The report says this is probably a fraction of the real cost, since many overseas patients pass through the Trust undetected.
Over 14 months, officials at the hospital interviewed 514 patients who aroused suspicion and found that 234 were not eligible for care. Of these, 21 had fake passports, 11 had fake asylum certificates, 146 had out of date visa's. Most walked out and tried another hospital when challenged.
AFGHANS AND IRAQI'S WON'T RETURN HOME
AFGHANS AND IRAQI DECIDE THEY WON'T GO HOME EVEN IF WE PAY THEM.
Mr Blunkett's plan to 'bribe' Afghan and Iraqi asylum seekers to go home with free plane tickets and grants is proving a costly fiasco. The Home Office hoped that thousands would accept payments of up to £2,500 per family (cost them much more to get to the UK) to return now that Saddam and the Taliban have been toppled. Of the 26,000 Afghans who have taken refuge in the UK only 40 have taken up the offer. Only one Afghan has applied for the scheme in the past four months. With the 50,000 Iraqi asylum seekers the story is the same - only eight boarding the first flight last month. The failure of Mr Blunkett's policy is likely to cost taxpayers millions of pounds as the Home Office will have to resort to compulsory removals - with the expense of charter flights, security staff, legal costs and detaining the economic migrants. Last month the NOT Governing Government spent £130,000 flying 47 economic migrants back to Kabul, with hardly any other seats on the aeroplane occupied. Fewer than 200 Afghans have been sent home in the last four months. One flight in June was cancelled as only six could be rounded up. At this rate it will take over 30 years to send the failed Afghan asylum seekers home.Most Afghan asylum seekers have been judged NOT to be genuine refugees but just economic migrants, but until April nobody had been deported.
TEN TIMES MORE FAILED ASYLUM SEEKERS CAN STAY
TEN TIMES MORE FAILED ASYLUM SEEKERS CAN STAY.
The number of failed asylum seekers who win appeals has risen tenfold since Labour came to power. More than 1 in 5 now succeeds in reversing the decision of immigration officers to throw them out. Six years ago the figure was 1 in 17 , when 1,200 refugees overturned an initial refusal. Last year 14,000 refugees overturned the decision even though they failed to convince the immigration staff that they were genuine. The volume of appeals has trebled meaning bogus refugees spend years extra here. The figures come from Migration watch UK. They reveal how much of a soft touch our asylum system has become. The Government has given no explanation for the huge rise in such a short time.
The number of appeals has reached over 65,000 a year, a fall in the standard of adjudication means that asylum will be granted to thousands who don't deserve it. Also the number of worthless appeals has risen to more than 50,000 last year. The Government has raised the target for appeals to be heard each month from 4,000 to 6,000 which means that the adjudicators have to cut corners.
COST OF EACH ASYLUM SEEKER
£18,000 FOR EACH ASYLUM SEEKER.
Every asylum sponger costs British taxpayers more than £18,000 the Government has admitted. The vast sum - more than the annual income of most Britons - covers legal aid, housing and food for refugees, as well as the thousands of bureaucrats needed to process their claims. There was a record 84,000 claims this year pushing the bill for taxpayers close to £2billion. The bill will soar even more as councils struggle with new legislation requiring them to care for young asylum seekers up to the age of 24. Council tax has already rose vastly due to the rises in Police, Fire and Council staff wages and pensions. Council can't keep the money they get from non-residential sources this go back to the Government. Yet the dole scroungers get free houses of the councils, get their rents and council tax paid indefinitely whilst running businesses from home.
CONVICTING THOSE WHO EMPLOY ILLEGAL IMMIGRANTS?
IN A WHOLE YEAR ONLY ONE BOSS IS CONVICTED OVER ILLEGAL WORKERS.
New figures show that only one employer was convicted of giving jobs to illegal immigrants over a full year. There are hundreds of thousands of illegal immigrants working in Britain so why only one conviction? Does somebody want them here?
The ease in which foreigners side step the law is the driving force behind the asylum crisis attracting economic migrants from all round the globe. Between 1997 and 2001, 34 employers were convicted of employing foreigners who had no right to work in Britain , out of thousands of companies that are known to be employing illegal workers often below the minimum wage. 65 prosecutions were brought in 2001 but only one led to a conviction. In theory companies face a £5,000 fine for every illegal employee.
CORRUPT JUDGES
Judges destroying role of Parliament.
Britain's unaccountable and un-elected judges are openly, and with increasing arrogance and perversity [ what do you expect from men who wear dresses] , usurping the role of Parliament putting the rights of bogus asylum seekers and enemies of the state before the rights of British citizens. They are pursuing a political correct agenda, in their zeal to interpret European legislation. Most asylum cases are bogus yet yesterday the High Court declared that David Blunkett's wish to deny benefits to anybody not promptly claiming asylum was a breach of their Human rights. Britain's top policeman wants tougher boarder controls and a system that properly vets those entering the U.K. Without this he warns that the terrorist will succeed.Many asylum seekers have turned down the chance to stay in France or Germany - because the benefits are much lower.
1.5 MILLION AFRICANS HEADING FOR EUROPE
1.5 MILLION AFRICANS BOUND FOR EUROPE.
One and a half million North Africans are queuing up to take their chances on the refugee trail , intelligence sources revealed on the 23rd October 2003. Italian security chiefs painted a horrible picture of human trafficking at a parliamentary briefing on the country's illegal immigration problem. They estimate that one and a half million immigrants are waiting to leave North Africa and head for Europe. In Italy, asylum seekers get a lot less benefits than those who reach the UK. Thousands will use Italy as a staging post before heading to Britain.
WE JAIL ASYLUM CHEATS BUT STILL PAY THEIR FAMILIES
ASYLUM CHEATS TO BE JAILED BUT TAXPAYERS STILL PAYING FOR THEIR FAMILIES.
Bogus asylum seekers (Economic migrants) who tear up their passports on their way to Britain (for welfare handouts) could be jailed for two years, David Blunkett the Home secretary announced on 27th October 2003. A major reform has been announced to try and stop the flood of economic migrants to our shores. Critics don't believe the new laws will stop in blocking bogus refugees from abusing the UK's asylum system. They warn that taxpayers will have to support dependants when the head of the family is in jail. An Asylum Bill will be discussed in the Queen's speech next month. It will be a criminal offence to arrive here without a valid reason for having no documentation. Are there enough prison places for them? No. Will there dependants be given benefits instead? Yes. Will there children go to school, become part of the community and therefore be allowed to stay indefinitely? Yes. Will those who have been jailed be sent home after their sentences? No. Will these new proposals be declared illegal under the Human Rights Act? Yes. Other countries act decisively but Britain indulges in rhetoric. No wonder we are the top refugee destination.
FREED WITH A MAP TO IMMIGRATION CENTRE
ILLEGAL IMMIGRANTS FREED WITH A MAP TO IMMIGRATION.
The game looked up for 16 illegal immigrants when they were arrested after arriving in Britain. The Indians were held after workers on an industrial estate caught them jumping off a lorry. Workers surrounded them with fork-lifts whilst a security officer called the Police. Immigration staff said to the Police that no staff were available to collect them. Immigration told the Police to give the illegal immigrants a map to the immigration centre in Croydon 40 miles away and then release them. The illegal immigrants come from the India sub-continent and therefore don't qualify for asylum. If they have disappeared it will be very hard to find them again!
63 ILLEGALS CAPTURED BUT ONLY 1 DEPORTED
63 ILLEGALS SEIZED BUT ONLY 1 DEPORTED.
The failure to crackdown on illegal foreign workers was exposed on the 21st October 2003 as it emerged that out of 63 Chinese caught only one had been deported. Ministers admitted that 62 are still in the UK. None is in custody and no employers have been prosecuted. 33 of those arrested immediately claimed asylum and so can't be deported. Another 16 are already asylum seekers. 4 were failed asylum seekers. 10 were immigration offenders. The 62 illegal workers are now subject to a reporting regime - they have to report to Immigration Service officers or police station every few days. On the other days the illegal immigrants may still be working!
DISABLED MIGRANTS HAVE MORE RIGHTS TO HOMES THAN BRITONS
DISABLED MIGRANTS HAVE MORE RIGHTS TO HOMES THAN BRITONS.
Disabled asylum seekers MUST be given priority over British citizens in the queue for council housing, the House of Lords ruled on the 26th January 2004. The landmark decision by the Law Lords means would-be refugees with disabilities can demand support from a local authority - even if Britons would not qualify for the same help.
The announcement came on a day a report by the House of Commons Home Affairs Select Committee said most asylum seekers arriving in Britain were economic migrants with no genuine claim to refugee status. The latest controversy centres on the case of Abdelaziz Mani. a Algerian who claimed housing from Lambeth because he has one leg half the length of his other and requires prosthetics. Asylum seekers are normally housed and supported by the National Asylum Support Service, with costs coming from the Treasury not from local council taxpayers. Lambeth Council has been forced to give Mr Mani a special ground-floor room in a warden controlled former Georgian mansion block used to house vulnerable people. The decision will dismay councils across the country but will effect those in London and the South-East most because more asylum seekers are housed here. Councils now face a string of similar claims from asylum seekers with disabilities who want to avoid being dispersed across the country.
Forty thousand asylum seekers ( economic migrants) were handed the right to free housing anywhere in Britain. They may choose where in the country they want to live and apply to the local council the law lords have ruled. This decision applies only to those given permission to stay and is a severe blow to the dispersal policy. Councils in Londinistan and south East will face a boom in demand for housing and thus council tax will rise to pay for this!
SOMALI PIRATES AND LINKS TO THE UK
Looking forwards: The Chandlers have been reunited with the Lynn Rival and have now heard one of the pirates who kidnapped them has been arrested. One 32-year-old member of the gang that held the Chandlers, who were seized at gunpoint as they sailed their yacht near the Seychelles in October 2008, has boasted of planning to join his wife and two children in London. He said his family had claimed political asylum in UK and investigators believe at least two more pirate families plan to do the same.
A member of a gang responsible for seizing two tankers last year is said to have a wife, children and sister in the UK. Investigators have been studying hundreds of satellite and mobile telephone calls made between Somalia and the UK and believe ransom money is being sent to contacts in the UK and Europe. Somali piracy has become big business with more than £60million in ransoms paid last year and the average payment rising from £100,000 in 2005 to £3.3million last year.
20 LAW FIRMS BECOME MILLIONAIRES FROM ASYLUM CASES
MORE than 20 law firms have become "asylum millionaires" this year, thanks to a surge in legal work in Britain's chaotic immigration system. Each of the leading companies will earn more than £1million this year in legal aid fees from asylum cases, the Evening Standard can reveal. The 21 firms 17 of which are in London -- are the biggest beneficiaries of an explosion in the appeals process that has seen the legal aid bill for asylum cases more than double in a year, to £138 million in 2001-2002. Figures for the current financial year are set to top £150 million as the process struggles to , contend with record levels 'of' asylum claims -- more than 7500 a month in the Home Office last set of figures. One leading law firm, which set up a suite of stylish Soho offices; is handling 2,000 asylum cases, and is set to attract more than £6 million in legal aid. Tory shadow home secretary Oliver Letwin accused the Government of not doing enough to stop Britain being "a magnet" for refugees. He added: "This illustrates yet again the huge costs that flow from Britain's chaotic asylum system. "It also demonstrates the underlying problem with the whole structure of our asylum arrangements. We have been saying for a long time that the Government has not done enough to stop Britain being a magnet for asylum seekers."

The firms netting more than £1 million each have benefited, from efforts to speed up asylum cases. While unresolved cases have been cut from more than 100,000 to below 40,000, the result is a logjam in the appeals system -- meaning more work for lawyers and higher legal bills. Steve Orchard, chief executive of the Legal Services Commission, which hands out legal aid, said: "Appeals can be dealt with more effectively if asylum seekers are represented. "One of our objectives has been to encourage the good firms to give honest, good quality advice and to kick out the cowboys -- that process is not yet complete. "We have got rid of over 30 [firms] so far. About 460 firms are contracted for immigration work but there are still others we want to remove from the process. A report by Public spending watchdog the National Audit Office showed how one firm was caught trying to dupe taxpayers out of £700,000 in false claims. The report found that a third of all firms claiming aid inflated their bills by at least 20 per cent, overestimating the time spent on cases. The Government hopes the closure of Sangatte and reforms in the Nationality, Immigration and Asylum Act will streamline asylum appeals so cases have to be settled inside two weeks. Appeals will be heard by a single High Court judge, and lawyers who bring eases of no merit will be unpaid. A new network of accommodation centers will process cases quickly and prevent asylum seekers draining the resources of local authorities. But Home Secretary David Blunkett has acknowledged his greatest chance of reforming the asylum system lies in reducing the number of people
who make it to Britain seeking refuge. The Home Office has already relaxed work permit rules to allow more economic migrants to enter the UK legally. This is designed to stop foreigners who are drawn to Britain for a better life falsely exploiting the system.
Firms expected to be paid more than £1 million this financial year for asylum work
London:-
Trott and Gentry, N1 White Ryland, W12 Asghar and Co, UB2 Wesley Gryk, SE1
Irving and Co, NW1 Sheik and Co, N4 Ratnam and Co, UB2 Nathaniel and Co Solicitors, E2
Duncan Lewis Solicitors, E8 Wilson and Co, N17 Morgan Hall, Ilford, IG1
Lawrence Lupin Solicitors, N22 Noden and Co Solicitors, W10 Dozie and Co, N15
Howe and Co, W5 Refugee Legal Centre, E1

Brighton >Refugee Legal Centre Leeds > Howells Refugee Legal Centre Newcastle > Halliday Reeves
WHAT DOES THE UN CONVENTION SAY?

What does the UN convention say?
The convention was intended to cover only pre-1951 refugees but was extended by a protocol in 1967 to cover all asylum seekers. It requires a signatory state to offer refuge to a person who "owing to a well-founded fear of being persecuted for reasons of race, religion, nationality, membership of a particular social group or political opinion, is outside the country of his nationality. The key provision of the convention, known as "non-refoulment" means that no one claiming asylum will be returned to a country where he might be persecuted. A second requirement [is that proper consideration is given to each claim and that no one will be prosecuted for entering a country illegally. Britain has always interpreted this in the most generous fashion. The courts then maintain that persecution can be carried out by one group of people on another: Yet, the !m, (Germans interpret their obligations differently, the persecution must be carried out by the agents of the state. Before would be refugees are allowed into modern Germany, they need to be escaping an obvious crisis, such as war or persecution practiced by the state. Gypsies from Romania or Slovakia - deemed to be safe countries - are simply turned away at the borders.
COUNCILS POLITICALLY CORRECT JOBS - AKA NONE JOBS
Hence Luton's hunt for a protected learning time facilitator. Hence, too, the ludicrous and expensive tests that applicants for this mysterious post had to undergo. This was one of 60 equally outlandish jobs for which I have applied under various guises in a four-month investigation into the public sector bonanza. My quest into this strange world was disturbing. It really is a jungle out there, inhabited by some bizarre creatures.
STEP aside Mr. Plod the Policeman; shuffle up Mr. Stamp the Postman — a whole new series of public employees has joined the Happy Families game. Here's Mr. Rights the anti-racism coordinator, Mrs. Strict of the council's smoking cessation unit and Miss Celery the healthy eating officer from the digestion support team. Look, there's Mr. Lengthy-Forms the targets monitor, to make sure they all measure up to government standards. And here's Mr. Brown the stealth-tax-and-spend invigilator. Gordon Brown's National Insurance rises and other measures are the equivalent of a 7p increase in the basic rate of income tax since Labour came to power, according to a study carried out by the accountants Tenon for the think tank Reform. The chancellor has promised a "world class" National Health Service in return for lightening our wallets. But critics see a flaw in his proposal — a fundamental paradox in the funding and provision of public services. He has put in place the managers who will preside over the overhauled health service but not the frontline doctors and nurses, who are still being trained. Between 1997, when Labour came to power, and 2002 the number of qualified doctors and nurses in the NHS rose by 15.3%, while managers and senior managers increased by 45.6%. It is possible that, because of the economic cycle, there could well be little money available to pay for the new doctors and nurses by the time they do, eventually, emerge from training. Voters are increasingly aware that their taxes are not being turned into tangible benefits — a poll last week showed only 7% are happy with Labour's record on public services. But the job bonanza continues. Money is sloshing through the public sector, gurgling along the corridors of local councils, NHS trusts, local education authorities and quangos. Spending on public services will rise to £512 billion in 2005-6 from £203 billion in 1996-7. My attempts to get my share of this largesse unearthed some posts that clearly would not do. A "young lesbian and bisexual women's health worker" was sought by the London borough of Waltham Forest, to be paid up to £26,121 for "improving the mental, physical and social well-being of young women who are lesbian, bisexual or questioning their sexuality". More promising was an advertisement for a "Five-A-Day co-ordinator" in east London to "address inequality" in "access to fruit and vegetables". Sheffield's council-funded Gypsy and Traveller Support Group was hunting for an information officer. Tower Hamlets borough council wanted a youth worker to help young Bangladeshis "at risk of becoming disaffected, isolated (and) depressed", while Camden council sought a "welfare rights adviser" to ensure that everyone in the area received as many state benefits as they could manage. Rochdale metropolitan borough council advertised for an "asylum seeker support project manager", at up to £30,594 a year. Lambeth council, understandably, wants a "multilingual service manager", to assist ethnic minorities who don't yet speak English. I soon discovered that "diversity" was the new buzzword — and that it indicates a new wave of anti-racist activism sweeping through the public sector. Sutton & Merton NHS Trust wanted to spend up to £35,163 a year on a "diversity project co-ordinator". Salford city council wanted an equality officer to help propel disabled, black and other minority workers into senior management. Sheffield South West PCT, Kent county council and Lambeth council in London all advertised for workers in the field of diversity. The West Midlands Fire Service (WMFS), which has angered Birmingham residents by helping to force up council tax bills with demands for extra funding that outstripped inflation, sought an "equalities and diversity manager". Key duties included fostering a "welcoming climate for all current and potential employees" and writing reports on equality issues in the service. The WMFS also sought a diversity co-ordinator. Yet, in a glossy brochure, it said it had never had a serious racial problem in its ranks: the anti-racist drive was simply spurred by the Race Relations Act amendment of 2000. I decided I might be cut out for the post of joint learning and development co-ordinator with the South Tyneside Health Care NHS Trust. The £25,777 job involves helping health workers to understand how to hit government targets. As part of the selection process I had been asked to prepare a 15-minute presentation working to this brief: "Based on the proposed new model of working for the joint training forum, how would you ensure a successful integ- rated approach to multi-agency employee development, and what potential difficulties do you envisage in turning this model into a working reality?" My potential difficulty was that, despite reading the job description three times, I could still not work out what it entailed and had to bluff my way through the presentation — not helped by the noise from the busy hospital canteen adjoining the interview room. At a tricky moment I was inadvertently rescued by a member of staff who burst in thinking the room was empty.

Gradually I worked out that the job involves buying training in order to help staff to meet Whitehall's targets, and finding the funding for it. One senior manager told me opaquely that there was "a social care and health workforce which is being dictated to by minimum competency levels set by government, who are very prescriptive in what they are asking for". The aim of the job was "really to provide an integrated approach to providing employee development across a very, very diverse and complex area. I guess that's the hub of it: to develop the workforce within prescriptive government competency levels". So there you have it. Funding would not be a problem. Viv Lund, a line manager with the trust, confided: "There are lots of different pots of money . . . you've just got to put in the bids really. Multi-agency working and things, you know, they're flavour of the month." This is how the NHS budget is gobbled up. One recent study claimed that, despite a 30% real-terms increase in the overall NHS budget in the past four years, the number of waiting list patients treated only rose by 2%. It emerged that the training system I would be running was unpopular with the people it was supposed to benefit — but it had gone ahead regardless.

It had met "scepticism, certainly, across the sector in many respects", said one manager. But he claimed the training system was "a huge awareness-raising exercise for all the parties we are dealing with".

I DIDN'T get the job. Maybe my heart was not in it. But it was typical of the culture change that has swept the public sector. With myriad targets set by the government, armies of managers are needed not only to chase progress but to collect data and fill in paperwork. I ran into an extreme example of this when I was being interviewed at Nottingham city council for the post of "monitoring and evaluation officer" of its children's projects. Wiser by now to the ways of the public sector, I innocently asked John Seals, a programme manager, whether there were any plans for "evaluating evaluation". To my amazement, he replied: "Yes . . . we will be combining this post internally with an external, arm's-length evaluation programme as well, which will probably be conducted by a university or something like that. We are tendering at the moment. "It will be a two-faced process, if you like. The role of the post is to work closely with projects in helping them with this, and also enabling the link, helping the link, with the external. It's not just a matter of us doing it for our own purposes. It's related to the big picture." So, on to the NHS trust in Harrow, north London, which was offering £26,202 a year for a "smoking cessation and prevention service co-ordinator". The Department of Health has set a target of more than 3,000 people to give up smoking in the Harrow area by 2006, and this post was described in the advertisement as "an exciting opportunity to make a real difference to the lives of our local community". In reality it involves a maze of bureaucracy — dealing with steering groups, developing "strategic and operational plans", meeting government targets, collecting data, producing reports and ensuring the local primary care trust complies with the government's white paper on smoking. What is does not involve on any regular basis is explaining directly to smokers how to stop. Pretending that I had a background in helping homeless men to overcome addiction, I was interviewed at the trust's headquarters and gave a 20-minute presentation putting forward a number of "radical" initiatives the trust might like to organise. These included a "die-in" outside the Cuban embassy to protest at the cigar trade, a "zero tolerance" policy requiring all trust staff to submit to random nicotine screening, a cutback in funding for heart surgery, nurses and medicines (the money would be redirected to anti-smoking publicity) and a picket of newsagents selling cigarettes to children. "It was nice to see you strongly on the side of prevention during your presentation," said the trust's health promotion team leader Shikha Sharma. Too strongly, perhaps. Again, I was rejected.
And so to Luton, where I applied for the new NHS post of "protected learning time facilitator".

My interviewers admitted that the job title was so meaningless that people reading the advert were likely to have no idea what the work entailed. Pam McClinton, the Luton trust's associate director of learning and development, told me: "It was interesting when we went to the advert, because is (protected learning time facilitator) going to mean anything to anybody? But what else do you call it, because it's a quite specific initiative really? And then we think, well if people want to find out they'll dig a bit deeper."

Having done my digging, I discovered that the job involved shutting down all the GP surgeries in the area for 10 afternoons a year, so that all staff can receive extra training. "It's a total shut-down," said McClinton. "And we pay an on-call company to cover the GPs." The facilitator would, of course, also have time off to train in how best to ensure that other staff have time off for training. McClinton admitted there had been "varied" responses to this scheme from the trust's practices, and the panel accepted that doctors and their staff could balk at the idea of having learning time "forced on them". "I think the group that probably needs most convincing are the GPs," said McClinton. That increased my respect for Luton's family doctors, but again I didn't get the job. I think my problem was the psychometric test, which took place at a sexual health clinic. It wasn't the sheepish people in the waiting room who cramped my score but the trickiness of the 180 questions assessed by George Havloujan, a wavy-haired, fast-talking Australian consultant. So, turning to Merseyside, I applied to become a "fathers worker" with Knowsley council. This is a part-time job that pays £22,689 pro rata. My duties would be to accompany problem fathers on dry-slope skiing trips, help them get on with their families and perhaps make them more politically correct.

"I think a lot of them think they should just work, come home — you know, a pretty sexist view of the world. The mum does all the ironing," was how Sandra Richardson, an area manager, put it to me. The interview was held on the first floor of offices next to a busy dual-carriageway leading into Liverpool city centre; I had to ask the chairman of the panel to close the window before I could hear what she was saying. I was surprised to see an all-female panel had been assigned to interview men for a job helping other men to understand issues relating to being a father. They appeared more nervous than me. Even though they had 12 set questions — including "what social and economic issues do you feel young fathers face . . . and how do you feel this post will help to tackle some of these issues?" — there were embarrassed silences as they tried to work out who was going to speak next. At no point was I asked the most obvious question in determining what practical knowledge I had of fatherhood: "Do you have any children yourself?" Whether I had any or not (I haven't), I was unsuitable once again. HOW long can this nonsense go on? Professor Len Shackleton, a leading free-market economist and head of the Westminster Business School, sighed as he contemplated the blizzard of cash now flying around the public sector.

"There is a genuine boom in public sector jobs at the moment," said Shackleton. "A great deal of money has been thrown at the public sector in the last year or two, without a great deal of thought as to how it should be spent. "In the public sector, you want to increase your budget because that obviously improves things for you and your mates who happen to be in that particular job. "Typically what happens in the public sector is you have a budget for a year, you aren't allowed to carry stuff forward and if you don't spend it you lose it. So when the sun is shining, you employ people. "The public sector is also very much driven by all sorts of opportunities to do with equal opportunities and diversity — there's an endless amount of jobs in that area." Experts such as Shackleton say the burgeoning public sector workforce is a key part of a sea-change in Britain, with the country steadily moving from a competitive, if ruthless, Thatcherite society towards a less productive and more touchy-feely one under Tony Blair. There are signs of resistance, however — and from within the public sector itself. When I went for the job of "contract monitoring officer" at Lincolnshire county council I found that part of my role would be to overcome cynicism among staff who believe they should be doing something more productive than monitoring their own work. "You have to be in a position to be able to persuade them and convince them that that paperwork is very necessary," said a senior manager. Now there's a group of people I would really like to work with.
A FREE HOME FOR BEING SHOUTED AT - ANOTHER FOREIGNER
A panel of five judges, led by Lady Hale, had been hearing the case of Mihret ­Yemshaw, 35, who said that she was a ­victim of domestic violence and, therefore, entitled to a new home under the 1996 Housing Act. Officials in Hounslow, West London, had turned down her claim after hearing that her husband had never hit her, nor even threatened to do so. It all came down to the meaning of the word 'violence'.
Mrs Yemshaw told the court that her husband — a 40-year-old bus driver born, like her, in Ethiopia — had shouted in front of their two children, failed to treat her like a human (whatever that may mean) and hadn't given her any housekeeping money. She also said she was frightened that he might take the children away from her. Does this amount to violence? Lady Hale thought so. In what strikes me as an extraordinary judgment, with worrying implications for the way we're governed, she said the ­meaning of the word had moved on since Parliament passed the Act in 1996.
Violence, she said, 'is capable of bearing several meanings and applying to many different types of behaviour. These can change and develop over time'. Now, I can imagine that in some relationships — and I exclude my dear friends — it must be pretty miserable to live with a loud-mouthed, domineering partner (although Mrs Yemshaw's ­husband protests that he 'never even screamed or swore at her'). So the last thing I want is to make light of it. But the point is that when our elected representatives passed the Housing Act 1996, they were aware that there are degrees of unpleasant behaviour in a marriage or partnership, ranging from mild carping or nagging, all the way up through shouting and swearing to actual, physical violence.
They had to decide at which point on that scale of unhappiness the State, in its mercy, would offer victims of ill-treatment the statutory right to a separate home. And since large sums of public money were at stake, they set it high — at the point of 'violence' or the credible threat of it. The rot started with the Human Rights Act, ­enforcing in British Courts a European Convention so loosely worded that it offers endless scope for judicial lawmaking on the sly. As Lady Hale seems to accept, they meant physical violence. After all, if Parliament had intended to offer new homes to partners who'd been shouted at or denied housekeeping money, wouldn't it have said so? Meanwhile international investigators have uncovered evidence of the European connections of the Somali pirate clans and at least five have family living in the UK.
THE 1951 GENEVA CONVENTION
THE 1951 Geneva Convention on the Status of Refugees is the main international law underpinning asylum was not intended as a means of primary immigration, for which domestic laws provided. But, European countries - as well as Australia and America - tightened immigration controls, asylum has increasingly become a means of gaining entry to a country in pursuit of a better life rather than an escapee from political danger. In 1988 Britain received fewer than 4.000 asylum seekers. The acceleration began in 1989, when the total jumped to 11.000. a trend that continued to 50,000 in 1995. Changes in the benefit system saw a decline to under 30.000 but the numbers then took off again. In 1997, there were 32,000 and by 1999 the total was above 70,000. These statistics do not include dependants as, until recent, the Home Office gave figures only for principal applicants. Over/ the past three years, nearly 300,000 asylum seekers arrived in Britain. Since 1990. more than 600,000 people have claimed asylum in the UK.

Last year, the main countries of origin were Iraq, Afghanistan, Sri Lanka. Somalia and Turkey. With the exception of refugees from the former Yugoslavia, these are the same countries that provided the most asylum seekers in 1996.

How the process works. Asylum seekers register on arrival at the Immigration and Nationalities Department's HO in Croydon, which has long been a byword for in competency Even this week. Mr. Blunkett criticized the administration of the system, despite instigating major reforms. While asylum seekers are in Britain awaiting a decision, they have several options They can look after themselves, but cannot work. They can stay with friends or relatives and get limited , assistance with vouchers. They can be cared for by the national Asylum Support Service, which gives housing and other help but no choice over where to live. All asylum seekers are now issued with an identity card and it is intended that the should all attend an induction centre. A hotel in Sittingbourne was intended to be such a centre but it new looks as though it will not open next week as planned. The Home Office is looking for other hotels or large empty homes near places where most applications are lodged, such as Heathrow or Croydon , south London. Those who choose to be supported by the state will be housed in accommodation centres, initially taking 3,000 people every six months. Those who cannot into the centres -none of which have been built -will continue to be dispersed to local authorities. However none of the proposed accommodation centres has yet received planning permission. And on top of this illusion, the Home Office wants a network of secure detention centres to take people awaiting removal from the country. Mr. Blunkett has reintroduced the so-called "white list" of countries whose citizens are assumed not to be political refugees because there is no state persecution taking place there. But this does not stop the application being considered: again, under the UN convention, it must be. It merely means that the claim will be "fast-tracked" through the system. The applicant is allowed to stay while it is being considered even though everyone knows it will be refused. One possible option is to allow British immigration officers to take instant decisions to deny entry to those who claim asylum but evidently are not political refugees. It is argued that genuine refugees cannot be told from economic migrants and if they have disposed of their papers, or possess forgeries, identification would be impossible. But if they have arrived at Dover, they are clearly not fleeing persecution in France or Belgium. These two countries may not like it if asylum seekers were returned since they would then assume the obligation of looking after them. But this is an argument for some sort of burden-sharing agreement to prevent some E.U countries taking the brunt of applications.
POLITICAL CORRECTNESS ONLY ALLOWS ONE OPINION IT'S THE ENEMY OF FREE SPEECH.
British teachers are also reluctant to discuss the medieval Crusades, in which Christians fought Muslim armies for control of Jerusalem: lessons often contradict what is taught in local mosques.
In Cheshire, two students at the Alsager High School were punished by their teacher for refusing to pray to Allah as part of their religious education class.
In Scotland, 30 non-Muslim children from the Parkview Primary School recently were required to visit the Bait ur Rehman Ahmadiyya mosque in the Yorkhill district of Glasgow (videos here and JEWTUBE HAS REMOVED VIDEO here). At the mosque, the children were instructed to recite the shahada, the Muslim declaration of faith which states: "There is no god but Allah and Mohammed is his messenger." Muslims are also demanding that Islamic preachers be sent to every school in Scotland to teach children about Islam, ostensibly in an effort to end negative attitudes about Muslims.
British schools are increasingly dropping the Jewish Holocaust from history lessons to avoid offending Muslim pupils, according to a report entitled, Teaching Emotive and Controversial History, commissioned by the Department for Education and Skills.
British teachers are also reluctant to discuss the medieval Crusades, in which Christians fought Muslim armies for control of Jerusalem: lessons often contradict what is taught in local mosques.
In an effort to counter "Islamophobia" in British schools, teachers now are required to teach "key Muslim contributions such as Algebra and the number zero" in math and science courses, even though the concept of zero originated in India.
In the East London district of Tower Hamlets, four Muslims were recently <>jailed for attacking a local white teacher who gave religious studies lessons to Muslim girls; and 85 out of 90 schools have implemented "no pork" policies.
Schools across Britain are, in fact, increasingly banning pork from lunch menus to avoid offending Muslim students. Hundreds of schools have adopted a "no pork" policy, according to a recent report by the London-based Daily Telegraph.
The culinary restrictions join a long list of politically correct changes that gradually are bringing hundreds of British primary and secondary education into conformity with Islamic Sharia law.
The London Borough of Haringey, a heavily Muslim district in North London, is the latest school district to switch to a menu that is fully halal (religiously permissible for Muslims).
The Haringey Town Council recently issued "best practice" advice to all schools in its area to "ban all pork products in order to cater for the needs of staff and pupils who are not permitted contact with these for religious reasons."
Local politicians have criticized the new policy as pandering to Muslims, and local farmers, who have pointed out that all schools in Britain already offer vegetarian options, have accused school administrators of depriving non-Muslim children of a choice.
Following an outcry from non-Muslim parents, the town council removed the guidance from its website, although the new policy remains in place.
---
Lawyers have set up shop in dozens of prisons, encouraging inmates to claim compensation for not having the right to vote. They have already collected 2,500 clients seeking payouts at the European Court of Human Rights. If David Cameron loses a looming constitutional battle with the Strasbourg-based court over prisoner voting, tens of thousands more could join the queue.
---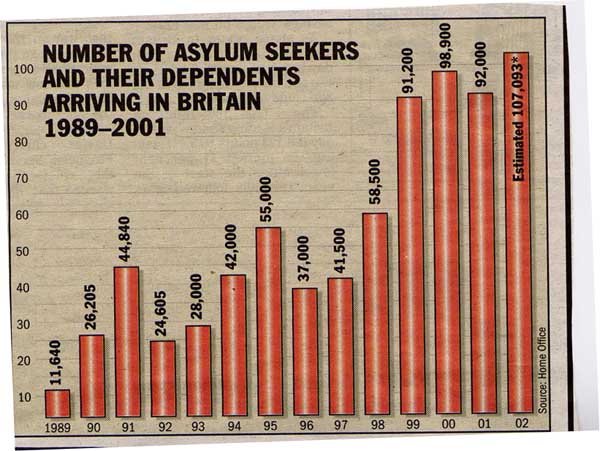 IALY CORRECT JOBS BEING OFFERED BY OUR C
---
SENDING YOBS TO ALTON TOWERS AT TAXPAYERS EXPENSE.

Fifty teenage yobs are being given a day out at Alton Towers at taxpayers expense to try to keep them out of trouble. A Labour council is spending more than £1,000 on the outing for some of its most disruptive yobs the day between Hallowe'en. Labour run Knowsley Council on Merseyside has agreed to fund the day trip to the theme park. The Council is paying the £26 entrance fees - a total of £1,300. Tesco and Asda are supplying pack lunches.

COUNCIL TAX BILLS COULD RISE BY 12 PERCENT NEXT YEAR.

Householders face another inflation busting council tax hike next year, local government chiefs have warned. Average bills could rise by 12 percent. The average council tax bill for the average family would climb well over £1,000 a year. Council tax has increased over 70 percent since Labour came to power in 1997. Mortgage rates are also predicted to rise by 1.5 percent to 5 percent next year.
---
50,000 REFUGEES TO STAY IN UK
An estimated 50,000 refugees could be allowed to stay in the UK in a bid to save support payments and legal aid, Home Secretary David Blunkett has said. Most of the eligible families are failed asylum seekers who had exhausted the main appeals process but had not yet been deported. Shadow Home Secretary Mr Letwin said: "This decision will make Britain a magnet for asylum seekers."
---
AMNESTY FOR EU TEN.
Eastern Europeans living illegally in Britain will be able to stay once their countries join the EU next May the Home Office minister confirmed on the 19th November 2003.
She told M.P's that once the ten new nations become members, any asylum claims from their citizens that are being processed will be defunct. Under EU law they will be able to stay and claim full UK benefits even though it was likely that the original claim would have been rejected.
MILLION ON HARD DRUGS IN BRITAIN.
The number of people taking hard drugs has toppled a million for the first time, figures revealed on the 4th December 2003. Overall drug use over the 2002 period has risen to 3.7 million people.
There are 1,028,000 uses of class A drugs like heroin, cocaine, crack and ecstasy . Cocaine is used by 642,000 users. 13 percent of adults questioned admitted to using a class A drug at sometime.
---
Changing the Dependency Culture.
Fed up with the EU and the migration issues :- FREEPHONE 0800 0727730 or write to EDD Group in Euro Parliament, Queen Anne's Gate , London , SW1H 9AA.
SADDAM'S FALL FAILS TO STEM ASYLUM TIDE.
Hundreds of economic migrants from Iraq are continuing to arrive in Britain despite the removal of the infidel Saddam Hussein. More than 220 apply here each month. Few of the 40,000 Iraqi economic migrants have returned home to help rebuild their country since they arrived after the 1991 Gulf War. Only 30 Iraqi's per month are being deported. Thus the ratio of those arriving to being evicted is 7 to 1.
NHS IS HIT BY 200 MILLION POUNDS HIV BILL.
HIV cases have increased rapidly due to immigration from Africa. It is now costing the NHS , 200 million pounds per year. Migrationwatch say its findings bolstered the case to screen long term migrants from countries with high rates of the disease.
£10,000 WASTED ON A LEAFLET FOR WELSH ASYLUM SEEKERS.
A Government leaflet offering advice in Welsh about claiming asylum in Britain was condemned on the 10th August 2004 as a waste of more taxpayers money. Ministers ordered the translation of the leaflet into Welsh knowing full well that not one asylum seeker speaks Welsh. The Government has rigidly stuck to the 1993 Welsh Language Act - another example of crazy Political Correctness gone mad? The Department for Constitutional Affairs is responsible for the leaflet which will cost the taxpayers over £10,000.
---
Speaking about the money the couple made, Mannion added: 'We will probably never know the true extent of her activities, but we certainly know that she made a significant amount of money out of these marriages. Over £250,000
---
IMMIGRATION CRISIS NOW HITTING SPAIN AS WELL.
Spain another great European country saw its population rise by a record 770,000 last year but only 120,000 were to Spanish babies - the other 650,000 were immigrants. Foreigners make up 8.4 percent of Spain's 44 million population. There population is still a lot less than UK and they have more land mass.
---
More than 150 illegal immigrants and failed asylum seekers will be freed from custody after a riot wrecked Britain's biggest detention centre.
John Reid was forced to release the men back on to the streets after a wave of blazes and destruction lasting for more than 18 hours at Harmondsworth, in west London on the 29th November 2006.
---
TUNNEL ASYLUM BILL HITS £30Million.
British taxpayers face a massive bill for damage to the channel tunnel - caused by asylum seekers in France (A safe country?). A court in the Hague awarded Eurotunnel £30 million compensation - to be forked out by Britain and France. Eurotunnel has spent £17 million beefing up security and has lost £14 million due to delays caused by refugees trying to sneak through the tunnel.
---