YOU HAVE TO LOVE HIM...A MUST READ...READ THIS! HE MADE THIS SPEECH IN NEW YORK
. The Plan! ?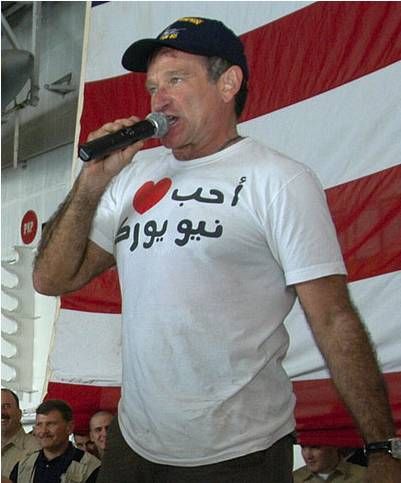 Robin Williams, wearing a shirt that says 'I love New York ' in Arabic.
Robin Williams........Even if he's nuts! Leave it to Robin Williams to come up with the perfect plan. What we need now is for our UN Ambassador to stand up and repeat this message. Robin Williams' plan...(Hard to argue with this logic!) 'I see a lot of people yelling for peace but I have not heard of a plan for peace. So, here's one plan.' 1) 'The US, UK , CANADA and AUSTRALIA will apologize to the world for our 'interference' in their affairs, past & present. You know, Hitler, Mussolini, Stalin, Tojo, Noriega, Milosevic, Hussein, and the rest of those 'good 'ole' boys', we will never 'interfere' again.
2) We will withdraw our troops from all over the world, starting with Germany, South Korea , the Middle East, and the Philippines . They don't want us there. We would station troops at our borders. No one allowed sneaking through holes in the fence.
3) All illegal aliens have 90 days to get their affairs together and leave. We'll give them a free trip home. After 90 days the remainder will be gathered up and deported immediately, regardless of whom or where they are from. They're illegal!!! France will welcome them.
4) All future visitors will be thoroughly checked and limited to 90 days unless given a special permit!!!! No one from a terrorist nation will be allowed in. If you don't like it there, change it yourself and don't hide here. Asylum would never be available to anyone. We don't need any more cab drivers or 7-11 cashiers.
5) No foreign 'students' over age 21. The older ones are the bombers. If they don't attend classes, they get a 'D' and it's back home baby.
6) The US, UK , CANADA and AUSTRALIA will make a strong effort to become self-sufficient energy wise. This will include developing nonpolluting sources of energy but will require a temporary drilling of oil in the Alaskan wilderness. The caribou will have to cope for a while..
7) Offer Saudi Arabia and other oil producing countries $10 a barrel for their oil. If they don't like it, we go someplace else. They can go somewhere else to sell their production. (About a week of the wells filling up the storage sites would be enough.)
8) If there is a famine or other natural catastrophe in the world, we will not 'interfere.' They can pray to Allah or whomever, for seeds, rain, cement or whatever they need. Besides most of what we give them is stolen or given to the army. The people who need it most get very little, if anything.
9) Ship the UN Headquarters to an isolated island someplace. We don't need the spies and fair weather friends here. Besides, the building would make a good homeless shelter or lockup for illegal aliens..
10) All Americans must go to charm and beauty school. That way, no one can call us 'Ugly Americans' any longer. The Language we speak is ENGLISH...learn it...or LEAVE. Now, isn't that a winner of a plan? 'The Statue of Liberty is no longer saying 'Give me your tired, your poor, your huddled masses.' She's got a baseball bat and she's yelling, 'you want a piece of me?' ' If you agree with the above, forward it to friends...If not, and I would be amazed if you DELETED it!!
---
'Are we fighting a war on terror or aren't we? Was it or was it not started by Islamic people who brought it to our shores in July 2002, and in New York Sept 11 2001 and have continually threatened to do so since?
Were people from all over the world, not brutally murdered that day in London, and in downtown Manhattan , and in a field in Pennsylvania ?
Did nearly three thousand men, women and children die a horrible, burning or crushing death that day, or didn't they?
And I'm supposed to care that a few Taliban were claiming to be tortured by a justice system of the nation they come from and are fighting against in a brutal insurgency.
I'll start caring when Osama bin Laden turns himself in and repents for incineratingll those innocent people on 9/11 and 7/7.
I'll care about the Koran when the fanatics in the Middle East start caring about the Holy Bible, the mere belief of which is a crime punishable by beheading in Afghanistan
I'll care when these thugs tell the world they are sorry for hacking off Nick Berg's head while Berg screamed through his gurgling slashed throat.
I'll care when the cowardly so-called 'insurgents' in Afghanistan come out and fight like men instead of disrespecting their own religion by hiding in mosques and behind women and children.
I'll care when the mindless zealots who blow themselves up in search of Nirvana care about the innocent children within range of their suicide bombs.
I'll care when the British media stops pretending that their freedom of speech on stories is more important than the lives of the soldiers on the ground or their families waiting at home to hear about them when something happens.
In the meantime, when I hear a story about a British soldier roughing up an Insurgent terrorist to obtain information, know this:
I don't care.
When I see a wounded terrorist get shot in the head when he is told not to move because he might be booby-trapped, you can take this to the bank:
I don't care.
When I hear that a prisoner - who was issued a Koran and a prayer mat, and 'fed special food' that is paid for by my taxes - is complaining that his holy book is being 'mishandled,' you can absolutely believe in your heart of hearts:
I don't care.
And oh, by the way, I've noticed that sometimes it's spelled 'Koran' and other times 'Quran.' Well, believe me!! you guessed it ......
I don't care!!
If you agree with this viewpoint, pass this on to all your E-mail friends. Sooner or later, it'll get to the people responsible for this ridiculous behaviour!
If you don't agree, then by all means hit the delete button. Should you choose the latter, then please don't complain when more atrocities committed by radical Muslims happen here in our great country! And may I add:
'Some people spend an entire lifetime wondering if they made a difference in the world. Our soldiers don't have that problem.'
I have another quote that I would like to add, AND.......I hope you forward all this.
Only five defining forces have ever offered to die for you:
1. Jesus Christ
2. The British Soldier.
3. The Canadian Soldier.
4. The US Soldier, and
5. The Australian Soldier
One died for your soul, the other 4 for your freedom.

YOU MIGHT WANT TO PASS THIS ON, AS MANY SEEM TO FORGET ABOUT ALL OF THEM.
AMEN!
---